Ain't Nobody Here But Us Chickens
       "Thanks so much for playing at Woodlawn Farmers Market on Saturday!  
You were like a couple of angels to appear like that and were such a perfect
compliment to our family circus activities!"
             - Sharon Kelly, Farmers Market Manager
"Good, country-folk vibes for our small farmer-focused market."
            - Lisa, Kenton/Portland Farmers Market
Free Range formed in 2012 with the goal of playing bluegrass and acoustic music at farmers markets. Since its formation, the band has played for community fairs, at  weddings, bluegrass concerts and local restaurants -- and yes, at many farmers markets.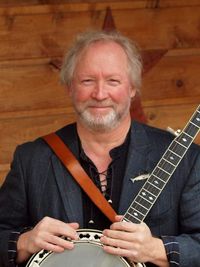 Matt Snook plays dobro and banjo with Free Range. He also sings leads and harmonies, contributes original songs, and is responsible for a lot of deadpanned one-liners. 

Matt's originally from Southern Oregon and lived in La Grande, Oregon for many years before relocating to the Willamette Valley.  He knows an awful lot about frogs, salamanders, fish and the geography of Oregon. On the other hand, he probably couldn't tell you who Beyonce is.

Matt's been playing banjo and dobro since his early teens and has performed in many ensembles.  Since moving to Portland, he has performed with SugarPine, Mischief, and Slipshod.  He teaches banjo and dobro in North Portland and wrote a popular music theory column for the Oregon Bluegrass Express.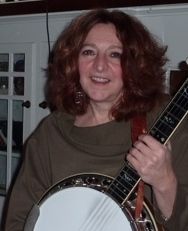 Claire Levine sings leads and harmonies with Free Range and plays guitar and banjo.  By day she's a writer and internal communications specialist, and she can get wonky about a lot of esoteric public policy subjects, so don't get her going on them.  She's originally from the Midwest and upon hearing her sing a listener dubbed her "the Okie from Skokie." (Sincere apologies to Merle Haggard.)

Claire has been jamming with bluegrass musicians since her college days and likes to sing about as well as do anything except eat.  She is a former editor and long-time contributor to the Oregon Bluegrass Express, and her interviews with musicians have been published in Bluegrass Unlimited and The Bluegrass Situation.
Here are some samples of songs we often play:

For weddings: 
- Time in a Bottle
- All about you
- Sweetest Song
- In My Life
- I heard the Bluebirds sing
General good fun music
- One More Dollar
- Snowbird
- Walk Right Back
- Sugar Moon
- Less and Less
Bluegrass
- Old Home Place
- This Morning at Nine
- Going Home
- Old Train
- Dark Holler
We have hours worth of songs ready to go, and we're happy to learn something especially for your wedding or other event.